ANNOUNCES
Our Kennel announces the LITTER of :
-Viola de Valoroso
and the
Greek Champion GR.CH.DON PEDRO del Rosso Malpelo
.
Viola
is an excellent sample of a typical Cane Corso; It has acquired titles in expos (Morphology) and is only 1 CAC short in order to become Greek Champion. As it regards 'working expositions" Viola has successfully passed the exams (EBY-basic obedience). Her tough temperament and the style Viola possesses make her an amazing dog. She has a well-balanced character and is perfect with the kids.
GR.GR.DON PEDRO del ROSSO MALPELO
obviously doesn't need additional references; a greek champion, has acquired multiple prizes in morphology expositions. In 'working expos" he has successfully passed the tests (EBY- basic obedience). His typical temperament along with his excellent character, result in a well-balanced dog. Don Pedro is the father of other greek champions (GR. CH. Ainia de Valoroso, GR. CH. Valia de Valoroso).
Note : By the time they are given, all puppies will be vaccinated and dewormed; their pedigree will be issued by KOE (Greek Canine organization – KOE).
SEPTEMBER 2011
Our Kennel announces the LITTER of :
-Ellena di corso Della vita (Italy) : Best Junior in Show (BJIS – KOE JUNE 2009)
and
-The Greek Champion GR.CH.AINIAS de Valoroso.
AINIAS' parents are both GREEK CHAMPIONS (GR.CH.DON PEDRO DEL ROSSO MALPELO X GR.CH.GI-QUIRIS), which have given excellent typical CANE CORSO samples in Greece. Their offsprings have acquired many titles in shows.
We started accepting puppy-reservations.
Born : 8 puppies (3 females & 5 Males)
COLORS : Brindle – Black – Fawn - Gray
AVAILABLE : (0)
Pedigree ΚΟΕ(Kynological Association of Greece), microchip, Vaxins, dewarm.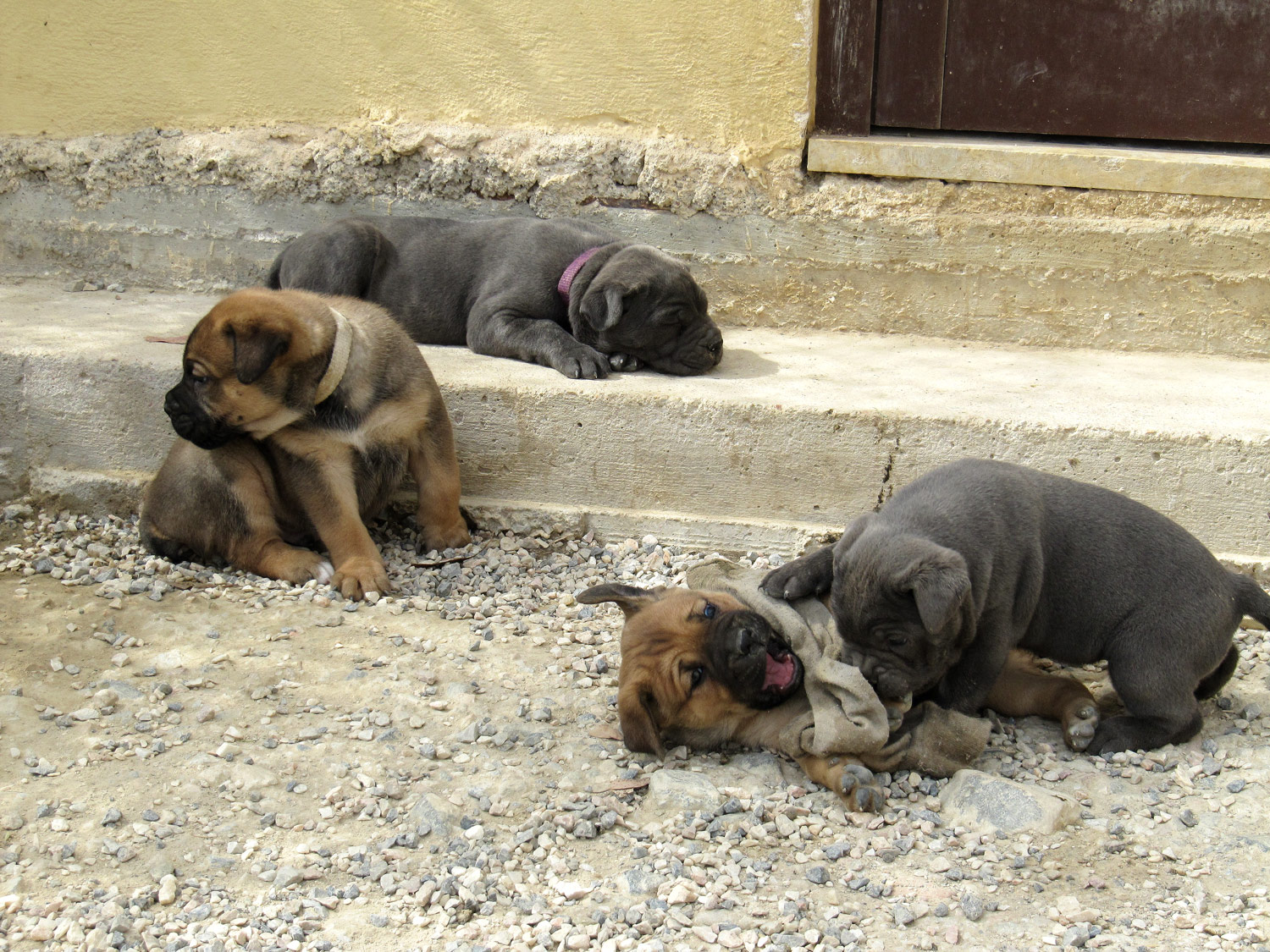 PAST LITTERS (NOVEMBER 2010)
The Greek Champion GR.CH.GI-QUIRIS was mated with COMPAGNO III, from Michelle Bocci's Kennel.
During my trip in the area of Manfredonia – Foggia – Puglia ( areas where the CANE CORSO race originated from) I tried to choose a stud which would fulfill high standards in working temperament, balanced character and typical Cane Corso morphology.

My agreement with the breeders there was that I would check the dog's temperament before I decided. That's how I ended up mating the champion of our kennel GR.CH.GI-QUIRIS with COMPAGNO III from the Italian Kennel of M.BOCCI.
This is one of the oldest Kennels in S.Italy. Mr.Bocci has been breeding Cane Corsos for more than 30 years and he is one of the pioneers in the race's breeding. He has unlimited knowledge as it regards breeding and selecting. In his kennel I found some excellent samples of Cane Corso (RUSTIC & Working type Dogs) offsprings of which we 'll soon present in Greece.

His personal dog, COMPAGNO III, is healthy, with great morphology, excellent bite and tremendous strength. It was the toughest dog I tested. It has excellent potential and balanced character.
M.BOCCI & COMPAGNO III
Characteristics of Compagno III
Height : 70 cm
Weight : 65 Kilos
Color : Gray Brindle
Date in which puppies were born: 14 November 2010
Date in which puppies will be available to be given to the new owners : 15 of January 2011
NUMBER of Puppies Born : 8 (5 males, 3 females)
COLORS : GRAY – BLACK BRINDLE-FAWN

Notes : All puppies will be vaccinated and dewormed, their pedigree will be issued by KOE (Greek Canine organization – KOE).